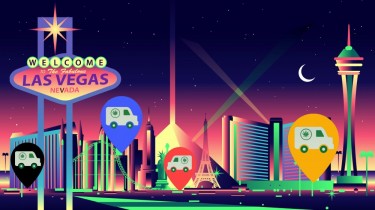 With the current increasing number of states legalizing the use of cannabis, it won't come as a surprise to see many people going in and out of their favorite dispensaries. There are currently 20 states that allow legal weed consumption for medical purposes, and 15 states allow it for both medical and recreational purposes.
There are numerous dispensaries in Sin City alone, and choosing the best Vegas dispensary is a matter of personal preference. If you haven't yet, read along to know more about dispensaries and learn some tips to help you in finding excellent ones.
What Is A Cannabis Dispensary?
Before anything else, first thing's first: you must be of legal age before you can enter a dispensary. A dispensary is an official shop that is licensed to sell cannabis legally and safely. Buying from this legit distributor means you're assured of their commitment to quality, as they provide informative and personalized service to you as a client.
Buying weed from other unlicensed stores or people is a considerable risk to take. Not only are you risking the quality of the product, which can be dangerous to your body, but you might also be ripped off in the form of overpriced or counterfeit products.
At a Las Vegas dispensary, all of the products are labeled carefully to guide you in making the best choice. The staff is available to answer all your concerns and to provide you with helpful information and insights. This will keep you well-informed before you make a purchase and give you peace of mind, too.
Weed Laws In Las Vegas
In Nevada, weed can be consumed for recreational purposes legally. However, you shouldn't ignore the fact that the state also implements laws concerning weed consumption. You should at least be 21 years old for you to enjoy marijuana for recreational purposes. And there's a limit for the amount that you can buy and possess. An ounce of marijuana flower is the maximum limit for recreational consumers. For concentrated marijuana, the maximum is 3.5 grams.
Another thing to carefully keep in mind is the location where you can take cannabis. State regulations are set up to strictly prohibit ingestion of weed in public places. A maximum penalty of $1,000 will be given to those who violate this law and may even result in jail time, depending on the circumstances of the case.
Moreover, you shouldn't drive around the city while enjoying or even just holding a container of cannabis.
Tips For Selecting The Best Dispensary
Due to the wide selection of marijuana dispensaries in Las Vegas, you may find yourself at a crossroads about which place to visit for your purchase. Consider these tips, and you'll find a great dispensary to match your preferences:
Do Your Research Beforehand
Currently, Las Vegas has about 65 cannabis dispensaries spread out throughout the entire city. Do your research on the different dispensaries near you to make sure you're choosing the right one.
Before you make a purchase, you can utilize different mobile apps to check the precise locations of the nearest dispensaries. Some apps also offer reviews, contact information, operating hours, and menus.
If you've done your research beforehand, this will expedite your decision. You'll also know more about the differences between each shop—saving you time later, when you finally decide to visit a store.
Check Out Different Kinds Of Shops
Now that you've already gathered information about some cannabis dispensaries, it's time to give them an actual visit. Each shop will offer you a unique experience.
Each cannabis shop has its own spin on different cannabis products. They have different high-quality and budget-friendly cannabis products for you to try. Their interiors and designs would also vary. Some dispensaries operate 24/7, so you can take a look into their shop anytime you wish.
Know The Basics Of Cannabis But Ask For Recommendations From A Budtender
While it would be fun to make spontaneous purchases sometimes, it would be best to know what you want to try before buying legal weed. Understanding the different cannabis products, their effects, and dosage recommendations would be beneficial for you. Learn more about the impact of recreational marijuana on your body. It wouldn't hurt to know and understand such information before using it.
However, even if you're already a cannabis connoisseur, it still a good idea to ask a budtender for advice because you might discover other marijuana strains or products that you haven't tried yet. A budtender will happily explain anything that might be unfamiliar to you.
Decide in advance whether you're looking for edibles, concentrates, or buds. Knowing what type of cannabis product you want and how long you want their effects to last will help you make your purchase quickly and effortlessly. The budtender will recommend the one that best fits your specifications. You wouldn't want to experience an unexpected high which lasts too long and makes you feel uneasy for a long time.
Search Stores That Offer Order Delivery And Curbside Pick-Up
If you prefer to purchase your weed online, there are several cannabis dispensaries that offer their services online. Whether you want your orders to be delivered, or if you'd like to have inside and curbside pick-up options, select a store that offers these convenient services.
If you want to forego the experience of visiting a dispensary, then you can go for an online delivery option. When you're running on a tight schedule to do other tours and visits, you may also pick up your orders by the curbside. Whichever is most convenient for you, you'll easily find a Las Vegas dispensary that offers these.
Read Reviews From Actual Clients
Buying cannabis is just like buying any other product. Take advantage of the abundant online resources about cannabis products and the dispensaries that offer them, and learn as much as you can.
Reading online reviews will help ensure that you're getting the best value for your money. These reviews will also help brief you on what to expect when making your purchase.
Find A Store That Also Sells Cannabis Accessories And Apparatus
Another aspect to consider when finding a dispensary is to make sure that it's a one-stop-shop, which means you don't need to visit other shops to buy other products, tools, or accessories. Some cannabis products would require a pipe, rolling paper, or a vaporizer. Choose a shop that sells all these tools and materials, too.
Feel free to ask the budtender about the right method of consuming your cannabis purchase. Some products require the use or support of certain devices, so it's essential to know what supplies to buy before you pay them a visit. Otherwise, you might find out that you can't use your cannabis because of the lacking equipment.
How To Prepare For A Dispensary Visit
Once you already have one or two dispensaries in mind after following the tips above, it's time to prepare for your visit to the shop (unless you plan to buy your weed online). Here are the things you need to know:
Bring Your ID
When you visit a dispensary, you'll always need one thing: your ID. Whether it's a dispensary selling recreational marijuana, medical marijuana, or both, they'll ask for your ID when you arrive. Individuals without a valid government-issued form of identification, such as a state-issued ID card or a driver's license, won't be able to shop. Therefore, always bring yours.
Think About Your Goals
It's highly recommended that you consider what you really want from the cannabis products you purchase before you visit your preferred dispensary. Do you want a product that could be energizing? Or maybe something that will help users chill out? Do you want to get a recommendation to try a new strain or perhaps buy something specific?
Don't feel worried if you're new to marijuana since employees at the best dispensaries should always be able to provide a product recommendation. However, they'll be able to much more easily guide you to the right cannabis product if you understand your goals before going to the dispensary.
Nevada Accepts Out-of-state Medical Marijuana Cards
Las Vegas accepts out-of-state medical cards if you're not a Nevadan but looking for marijuana for medical purposes in Sin City. What does this mean? It means that Nevada is a reciprocal state. The concept of reciprocity is one state's willingness to recognize a patient's medical card from another state. For example, if you have a California medical marijuana card and travel to Nevada, you can use your home state's medical card to purchase medical cannabis from a Las Vegas dispensary.
If you're visiting Las Vegas and buying medical marijuana in the city, your medical cannabis card will spare you from criminal liability if you get stopped by authorities for marijuana possession. But beware that most of the Las Vegas dispensaries are for recreational purposes only. Also, don't forget that recreational users can possess just one ounce of cannabis, so if you're caught with more but don't have a medical card, it's a felony charge. However, medical users can possess usable marijuana of up to two-and-a-half ounces in a two-week period.
If you're a Nevadan and approved for the state's medical marijuana program, then you must also bring your medical card at the time of purchase. Note that a registered caregiver must accompany approved minors inside of a dispensary at all times. Also, some dispensaries offer good discounts for medical marijuana patients; that's something you wouldn't want to miss out on for sure.
Check Store Availability
Check your preferred dispensary's availability before your visit, especially if you want to purchase a specific product or strain. To help you plan your visit, check the dispensary's online menu; most dispensaries have it.
Expect A Short Wait
The dispensary staff will likely ask you to be in a waiting room until it's your turn to be served. Las Vegas dispensaries only allow guests of a certain number to enter at one time. They do it to ensure that each customer will have the opportunity to thoroughly discuss their needs with a budtender. While it's true that each store has its own system or way of handling this, you surely won't find yourself inside with a crowd.
Consider The Level Of Assistance You're Looking To Get
The level of assistance you want is another important thing to consider before visiting a dispensary. Long-time marijuana users might want to be assisted in finding an exciting different strain or new product. Or, people who are new to cannabis might be looking for a lot of help choosing the right type of marijuana product for them. On the spectrum's opposite end, some people may already have an idea of exactly what type of cannabis product they want; they just want to buy it from the dispensary then move on with their day.
It's always good to think about the kind of experience you want in advance because if you know you're looking for more assistance, you'll be ready to let an employee from the dispensary know that you'd like more information or guidance during your visit. Or you can prepare for the visit by picking out the product before heading to the dispensary if you know that a quick experience is what you want.
Always Bring Cash
Most dispensaries in Las Vegas are cash-only. In the marijuana business, cash is still king despite some dispensaries having ATMs nearby or even onsite. Part of the reason why is the fact that cannabis is still illegal at the federal level, so many banks remain skeptical of transacting with dispensaries. Also, keep in mind that if you want to buy cannabis at a fair price, avoid places near the strip if possible, as they may be more expensive. The pricing of many dispensaries doesn't include the 10% sales tax, so that's something that you also have to keep in mind when bringing cash.
Conclusion
Whether you're in Las Vegas for a vacation, a business trip, or residing there for good, choose the best dispensary you can trust. Apply the tips in this article when choosing your favorite dispensary. To find affordable cannabis with outstanding quality, talk to the dispensary's budtenders.
LAS VEGAS DISPENSARIES, READ MORE..
LAS VEGAS DISPENSARIES NEAR THE STRIP, CHECK OUT MAP!
OR..
COULD LAS VEGAS BECOME THE WEED CAPITAL OF AMERICA?