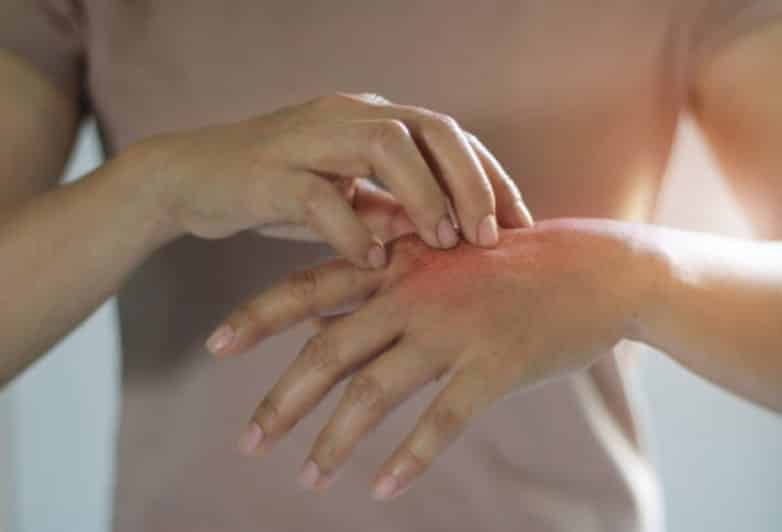 How CBD Helps with Burns
Through CBD's interaction with the body's endocannabinoid system (ECS), the potential anti-inflammatory, pain-relief, and antibacterial properties of CBD may help treat your burn injuries.
Cannabidiol (CBD) is the non-psychoactive phytocannabinoid found in hemp plants that interacts with the body's endocannabinoid system(1). These phytocannabinoids refer to the various naturally occurring components of a cannabis plant(2).
The ECS is said to modulate the body's inflammatory and pain management and responses. It has two receptors: CB1 receptors and CB2 receptors(3).
These cannabinoid receptors regulate different body functions. CB1 receptors affect memory, movement, mood, and perception, while CB2 receptors are linked with pain and inflammation, and bind with immune cells(4).
CBD binds with the CB2 receptors in the endocannabinoid system. This occurrence may account for CBD's potential anti-inflammatory properties and effects on pain(5).
The use of topical CBD has also shown safe and non-invasive effects in some inflammatory skin disorders(6).
A burn is a condition where specific body tissues on the skin are damaged because of heat, radiation, chemicals, or electricity(7). Its severity is categorized per degree.
First degree burns damage only the epidermis or the outermost layer of the skin. These are the mildest form of burns and do not cause infection or scarring(8).
Slightly severe second-degree burns cause damage to the two layers of skin: the epidermis and the dermis. This burn type may cause pain, swelling with red areas and blisters, and infection to the skin(9).
Third-degree or full-thickness burns harm the skin and other deeper tissues in the affected area. This type of burn can leave the skin almost numb and scorched-looking. It may require skin grafting(10).
Skin grafting is when a thin layer of the skin is taken from another area of the body to cover the burns(11).
Most problems caused by severe burns occur due to the body's spiked anti-inflammatory response(12).
This response is a natural reaction to injury and protection from bacteria and other foreign bodies. However, the overreaction to this response caused by severe burns may add to the burn injury's severity and affect other body organs(13).
Uses and Benefits of CBD for Burns
Burns cause physical trauma on the skin and break its protective layer. This damage may lead to other complications, like bacterial infections.
The debilitation of the immune system caused by burns may also affect how the body resists infection(14).
Slow wound–healing process, pain, hypertrophic scarring, and infections are crucial concerns when it comes to skin burn management(15).
Due to the slow healing and exposure of wounds, infection is one of the primary reasons for the mortality and morbidity of individuals with burns(16).
The increasing use of cannabis in treating several people who suffer from severe and large burns was reported in a study(17). The researchers observed that the people who use cannabis had larger burns, need more operations, and have longer stays in the ICU.
Early studies on cannabis compounds (CBD and THC) and their antibacterial effects date back to 1976(18).
CBD is usually associated with the enhancement of wellness overall. However, with the growing interest in CBD and its over-the-counter availability in some states, more CBD brands assert therapeutic claims.
CBD is also known for its anti-inflammatory, pain-relieving, and analgesic properties. The literature on CBD's benefits and uses also suggests its anxiolytic and anticonvulsant effects(19).
In an animal study, a CBD topical was used in irradiated rat skin to test harmful UV radiation prevention. The study supported the anti-inflammatory and antioxidant properties of CBD(20).
In a study reviewing natural fiber plants, hemp was mentioned to have antibacterial properties against pathogens(21).
The promising benefits of cannabinoids found in hemp demonstrated the advantages of CBD use for different skin diseases, as mentioned in a dermatological study(22).
Another study also mentioned that the combined antibacterial, anti-inflammatory, and antiproliferative effects of CBD may be useful in the treating of acne vulgaris(23).
CBD's modulation of bacterial membrane vesicles was also studied. Findings suggested that CBD may help improve antibiotic activity and help reduce antibiotic resistance(24).
A different study on cannabinoids and pain suggested the use of medical cannabis' cannabinoids as a possible treatment for chronic pain in adults(25).
Routes of Administration
There are several ways you can use CBD products, including inhalation, sublingual, mucosal, or transdermal application, oral ingestion, and topical absorption.
Two of the most common delivery methods for CBD products are sublingual or mucosal administration and inhalation.
Animal studies showed that CBD tinctures taken sublingually or absorbed by the mucosal membranes under the tongue or in the cheeks permits better absorption of terpenes(26).
Terpenes are naturally occurring compounds in plants known for their ability to counter parasites(antiplasmodial activity) and their potential as anticancer and antidiabetic agents(27).
It takes 15 to 30 minutes for sublingual products to take effect. These effects last for two to four hours(28).
Inhalation of CBD through vaping or smoking has the fastest onset of 2 to 15 minutes, and effects could last for two to four hours(29).
Topical and transdermal applications involve CBD having direct contact with the skin. Traditional CBD topicals include CBD salves, CBD balms, CBD creams, CBD lotions, or CBD patches.
These topicals and transdermal products have the same onset time of 5 to 30 minutes(30). However, the transdermal route appears to have a longer subsistence of four hours for CBD gels and eight hours or longer for CBD patches(31).
The effects of CBD edibles, like CBD capsules or CBD gummies, last up to six to eight hours. It is the longest CBD efficacy duration(32).
Several animal studies use cannabidiol as a topical solution to examine its effects on skin burns. Despite these findings, research is insufficient to conclude that CBD oil helps with burns.
Risks of Using CBD Oil for Burns
Skin burn is a serious condition that should be treated appropriately, no matter what degree type the burn is. CBD oil administration is just one possible alternative to help treat this condition.
Due to the limited information on CBD oil's effect on the skin, this potential burn treatment should be taken with caution.
CBD's possible side effects, its drug to drug interactions, and legality are things to consider before using CBD oil for specific conditions, like burns.
Side Effects and Drug Interactions
Even with the growing research on CBD's benefits, there are still possible adverse effects that the substance may cause, including(33):
Reduced appetite

Fatigue

Diarrhea

Dry mouth

Drowsiness
Although these side effects are said to be tolerable, they may lead to more serious complications. Thus, further research on the side effects of CBD is warranted.
Pregnant and breastfeeding women should avoid using CBD products, as some ingredients may affect the infant.
Since CBD may share similar effects with antihistamines, opioids, and antidepressants, it is not advisable to take CBD products with these medications to avoid oversedation and disruption of daily activities(34).
You should also avoid using CBD with other herbal supplements and products that have sedative properties(35).
Legality of CBD
The 2018 Farm Bill provided expanded information on hemp. It also removed hemp from the controlled substances, making it federally legal in the US(36).
The Controlled Substances Act (CSA) puts FDA regulated substances into one of the five schedules based on their potential abuse, medical use, dependence liability, and safety(37).
Hemp is defined as a variety of cannabis plants with less than 0.3% tetrahydrocannabinol (THC), the psychoactive component of cannabis, in dry weight(38).
Moreover, the US Food and Drug Administration (FDA) approved a CBD-infused drug for severe and rare forms of childhood epilepsy: Dravet syndrome and Lennox-Gastaut syndrome(39).
However, US states have different laws and regulations regarding CBD products. It is highly recommended to research and follow these regulations to avoid adverse repercussions.
Things to Consider in Buying CBD Oil for Burns
In choosing the best CBD product for burns and other medical conditions, you should assess the following:
There are three types of CBD. Full-spectrum CBD or whole-plant extract contains terpenes, flavonoids, and other phytocannabinoids, including traces of THC. The synergy of these cannabinoids and phytocompounds causes an entourage effect(40).
Meanwhile, broad-spectrum CBD has the components of a full-spectrum CBD except for THC.
Like broad-spectrum CBD, CBD isolates are THC-free. However, they contain pure CBD alone. It may need for you to take higher doses of the isolates before feeling the beneficial effects of CBD(41).
CBD brands claim to use high-quality, non-GMO, organic, and USA-grown hemp. However, you should be critical of these claims.
Understanding the hemp source entails knowing the farming protocols, checking for herbicides or pesticides, and ensuring hemp quality.
Some well-known states part of the hemp pilot programs include Colorado, Kentucky, Oregon, and North Carolina(42).
The certificate of analysis (COA) includes the lab results for the contaminants, like pesticides, microbials, and chemicals. Information on the CBD concentration and potency is also shown in the COA.
Amount of CBD Concentration and Potency
The COA shows how much CBD is infused in a product. To achieve your desired effects, using more potent CBD products is advised.
The method of obtaining CBD from the hemp extract determines a product's cleanliness and purity.
One of the most common extraction methods in deriving the substance from CBD-rich hemp extracts is the CO2 extraction method(43).
CBD oil is commonly infused with carrier oils, like hempseed oil and medium-chain triglyceride (MCT) coconut oil. These carrier oils may contribute to the favorable effects of CBD.
MCT coconut oil is known to have benefits for the cardiovascular system(44). Meanwhile, hempseed oil is known to be a source of digestible proteins(45).
Some topical CBD products have aloe vera, essential oils, and vitamin E that may contribute to skincare and skin health.
Examining the ingredients of the CBD product gives you information on the other components included in the product.