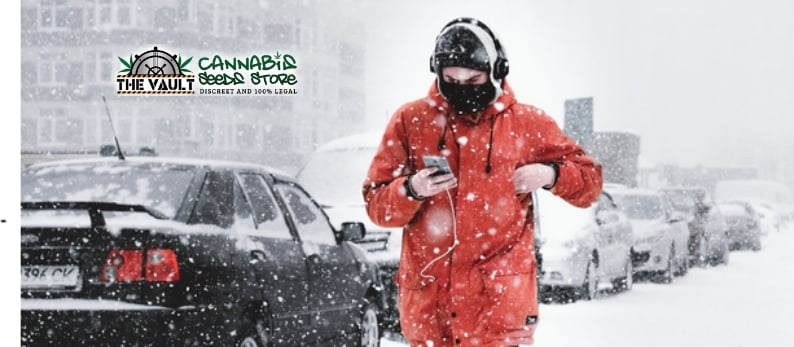 Currently, we are experiencing a fairly substantial slice of winter. Well some of us are at any rate. With snow thick on the ground, intermittent blizzards threatening to trap us indoors, and below-freezing temperatures I thought it might be nice to take a gander at some feel-good cosy strains. The kind of strains that encourage cuddling up on the couch with a hot chocolate and enough snacks for a party. Or maybe the kind that provides enough energy between flurries to get out into the winter sunshine and go for a lovely crisp walk. There's a little bit of something for everyone.
Girl Scout Cookies
This is a classic strain that had to be on this list. Her effect is powerful and cerebral while also being relaxing and an excellent medicinal strain. Most of us adults start to experience horrible aches and pains when the temperature drops. Girl Scout Cookies provides pain and inflammation relief which makes it a fantastic smoke for arthritis, PMS, nausea, stress, Multiple Sclerosis, migraines, and glaucoma. The THC level usually sits at around 22% so this strain is couch-friendly. Even her aroma and flavour are indulgent, a combination of mint and sweet chocolate that are genuinely reminiscent of the ever-popular Thin Mints. If there is one strain that needs to be tried in the dead of winter, this is it. She has a flowering time of 8 – 9 weeks and will grow well indoors or outdoors.
Cinex
Cinex is one of the more motivational strains that bring on a powerful yet focused euphoria, perfect for a winter walk with a friend. She is also often recommended to those who suffer from Seasonal Affective Disorder. This is essentially severe depression brought on by the cold weather and lack of daylight. This makes Cinex an ideal winter strain as I am yet to meet someone who doesn't get the blues around this time of year. This strain is great for getting out and about for a play in the snow but also just for getting out of bed and trying to get some work or chores done. This strain has a flowering time of 7 – 8 weeks and can be grown indoors, outdoors, or in a greenhouse.
Critical Mass CBD
This strain is one we probably all know, but were we aware that it is great for relieving dry and itchy skin? Another unpleasant aspect of the temperature dropping below zero is the skin on hands and faces drying up in the harsh air. Critical Mass CBD is used primarily to reduce inflammation, which works on painful joints and itchy skin. This particular version is CBD heavy and has a 1:1 CBD to THC ratio. This means that the high isn't over the top and smokers can experience relief without having to get super high. This strain is also highly recommended to those suffering from anxiety, depression, chronic pain or anorexia. It has a delicious citrus scent with hints of pine. The flowering time is just 8 weeks and Critical Mass CBD can grow indoors or outdoors.
OG Kush
OG Kush is an excellent night time strain that can be enjoyed without being worried about the next morning. This strain is usually recommended for those who suffer from insomnia, depression, PTSD or Parkinson's due to its ability to relax physically and mentally. This strain is perfect for snuggling up in front of a fire or just passing out on the couch in front of a film. The ideal strain for anyone who has a long week trudging through the snow to work and just needs a bit of emotional and physical relief. OG Kush is a time tested and trusted strain that has been around since the 90s. It will take just 8 weeks to grow and can thrive indoors, outdoors or in a greenhouse.
Chocolate Chunk
This strain is a lovely evening variety that melts in the mouth. Nothing thaws out the bones in a snowstorm like a yummy hot chocolate. This strain is also perfect for anyone who is suffering from a bad cold or flu this winter. Chocolate Chunk is often recommended as an anti-nausea strain as well as being comfortable and relaxing. This strain is also great for making into a tea and sipping while wearing a large jumper, staring out into the snow. This strain will flower in 8 – 9 weeks and can be grown indoors or outdoors.
Durban Poison
This is another strain that is great for mustering up energy during the winter. Durban Poison has a cerebral yet energetic effect that is focused and motivational. She is perfect for battling seasonal depression and getting out of bed even when it's still dark outside. This strain is special because it is completely inbred, 100% pure Durban Poison genetics and 100% Sativa. Interestingly when she grows she looks much more like an Indica. She is versatile and easy to grow which makes her great for all sorts of growers. For anyone who is struggling with Seasonal Affective Disorder or just experiencing the overall fatigue of winter, this is the strain. Durban Poison will flower in 8 – 9 weeks and can be grown indoors, outdoors or in a greenhouse.
Hawaii Maui Waui
Finally, a great way to deal with the cold is to add a little tropical sun. The effect is happy, euphoric and uplifting with a delicious flavour of sweet tropical fruit. This is also a strain that is generally prescribed for depression, stress and pain relief. It has a THC level of around 10% so it is perfect for anyone who still needs to get stuff done. This is also a great strain for having a big old clean of the house and dancing around to some upbeat music. It can be difficult to stay on top of spaces during the winter when just moving out from under the duvet seems an impossible task. This strain will usually take around 9 – 11 weeks to flower and can be grown indoors or outdoors.
Remember: It is illegal to germinate cannabis seeds in many countries including the UK. It is our duty to inform you of this fact and to urge you to obey all of your local laws to the letter. The Vault only ever sells or sends out seeds for souvenir, collection or novelty purposes.
Make sure you never miss another Vault promo and sign up for our newsletter at http://goo.gl/Bt2Ba2