Golden Globe Viewing Party With Cannabis Snacks
If you're a film and TV lover like many, you're as excited as we are! Turn up the volume on this year's celebration and enjoy a Golden Globe Viewing Party With Cannabis Snacks!
With the way the world is now, everyone – including hosts Tina Fey and Amy Poehler will be broadcasting live from their hometowns.
We think you should totally take advantage of this fun event by streaming it live and snackin' on weed edibles.
Bet you agree!
When Are The 2021 Golden Globes?
The 78th annual Golden Globe Awards will air on Sunday Feb 28, 2021 at 8:00pm ET/5:00pm PT from the Beverly Hilton Hotel.
You can stream using Roku, via cable TV, Hulu and YouTube TV – plus many more.
Once you've established the stream, it's time to establish the snacks!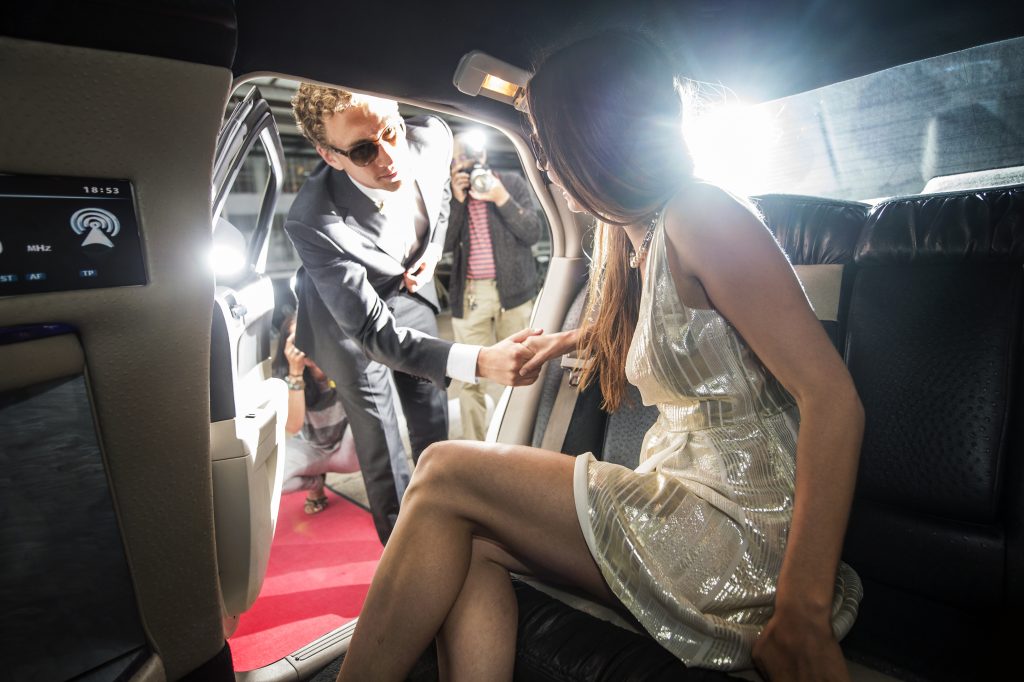 A Guide To Cannabis Snacks
We're all getting pretty used to staying at home, right? And unless your a nominee, partaking in some tasty cannabis snacks is the best way to totally enjoy the evening.
Dress up in your 'Sunday best' – literally! Get all dolled up, throw on some sexy clothes, and make this a fun-themed night to remember.
Cast your votes ahead of time, and have prizes for the winner, who in turn, choose the winner of your chosen categories!
Put out a huge buffet of cannabis snacks (below) and non-weed snacks for those who don't partake. Just label them accordingly so everyone can have a wonderful time!
Being responsible is key, but if you want to play a drinking game – take a shot or sip every time you hear the 'magic word' – could be: "Golden Globe" or something hard – depending on where you want the night to go.
Smoking or vaping too? Play another fun game where you smoke only when the acceptance speech totally bombs. (aka: sucks!)
Know that edibles do take a while to kick in for many, so if you don't want to start feeling the feels at midnight, start snacking a little earlier!
---
" You'll want to have enough Cannabutter and Decarboxylated Weed on Hand, and prepare your recipes in advance so you don't disappoint! "
---
Golden Globe Viewing Party With Cannabis Snacks
Snack Suggestion #1: Golden Milk With CBD
It might sound cliche, but what's the Golden Globe Awards without something gold-themed?
This may be a great end-of-evening hot drink to warm up your belly, and it also serves as a natural anti-inflammatory – so if you're wearing a tight dress or pair of dress pants, this might help ease some bloating after all of the snacking you're going to do!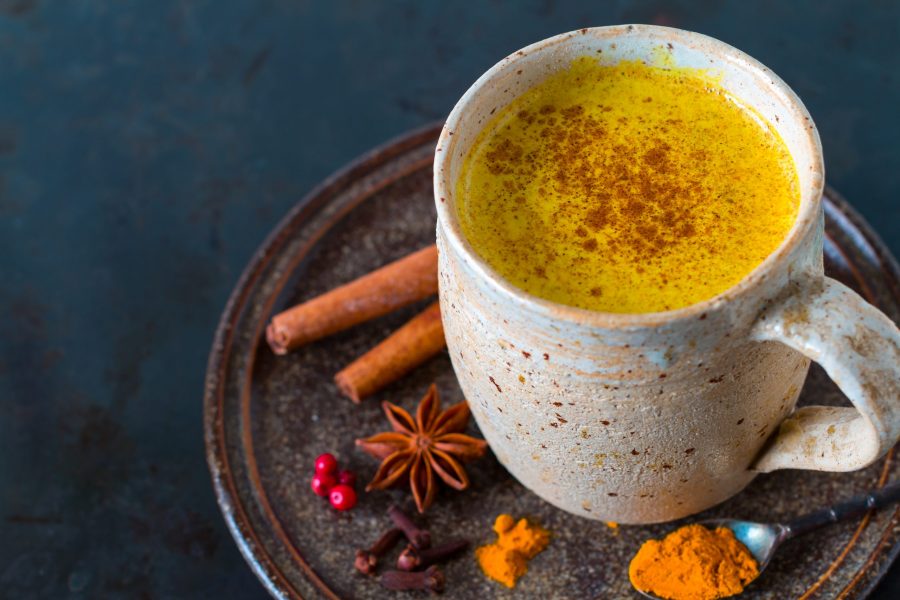 Servings: 1 person
Author: Steph Van De Ven
Cost: 10.00
Bring your liquid to a slow boiling roll- being careful not to let the heat or liquid boil over

Gently and continuously whisk

Once you have a nice golden glow with a frothy look, it's time to transfer to your coffee or tea cup.

Whisk or mix everything together.

Sip slowly, enjoy thoroughouly.
---
Snack Suggestion #2: Artichoke Dip With Weed
Mmm… warm dip with crostini, pitas, crackers and bread? YES!
Everyone loves a good hearty dip at a party – easy to eat, easy to control, and easy to continue to snack on!
The best part is getting your hands on a freshly baked round loaf of pumpernickel bread.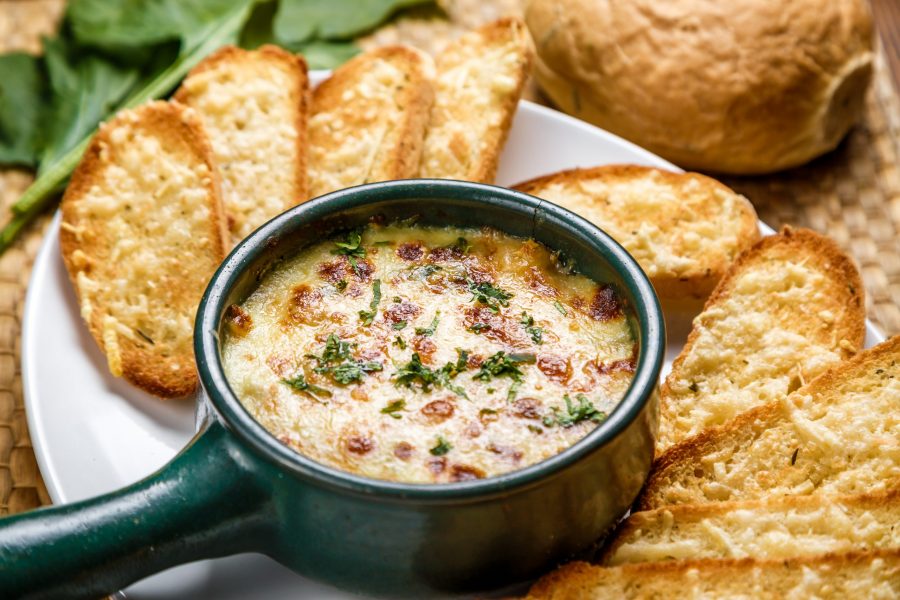 Servings: 8
Author: Steph Van De Ven
Cost: 40
8

oz

Cream Cheese

Full fat.

2/3

cup

Sour Cream

Full fat.

1/3

cup

Mayonnaise

You guessed it! Full fat.

4-6

tbsp

Cannabutter

The more Cannabutter, the more possible buzz!

2

cups

Mozzarella cheese

split in half – some you'll use later

2

cloves

Garlic – Fresh

Minced

1/2

cup

Parmesean Cheese

Fresh, grated. Don't skimp here!

1/2

cup

Gruyere Cheese

10

oz

Frozen Chopped Spinach

Towel dry to remove extra moisture

14

oz

Artichoke Hearts

Marinated & Chopped

1

whole

Pumpernickle Bread – Freshly Baked

Save for later.
Preheat oven to 375 degrees F.

In a bowl combine cream cheese, sour cream, cannabutter, mayonnaise and garlic with a hand mixer until fluffy

Stir in parmesan cheese, 1 cup mozzarella cheese, gruyere cheese, spinach, and artichokes.

Place into a 9×9 oven safe dish, and top with remaining 1/2 cup mozzarella cheese.

Bake 25-30 minutes or until bubbly and cheese is browned.

While your dip is baking, you can cut a hole on the top of your bread, making sure you don't cut all the way through – this is where your dip will be put into – so you want a good thick base at the bottom so the dip doesn't run out!

Gently remove the "lid" and inside pieces and tear the bread up into small little chunks – perfect for dipping later on.

Place the bread on a large plate, and put the bread chunks around the edges.

Once your dip is ready, let it cook for just a few minutes, and then transfer it over into the bread bowl.

You can add a little more cheese on top if you like, and you can always include tortilla chips, rice crackres, veggie sticks or anything else you like to dip! Enjoy!
---
Snack Suggestion #3: Chocolate Kahlua Cannabis Cupcakes
Nothing is more decadent than chocolate!
But when it's infused with weed and Kahlua? Mmm..mmm! A dynamic duo that no one will be able to resist.
Bite-sized, and perfect for nibbling.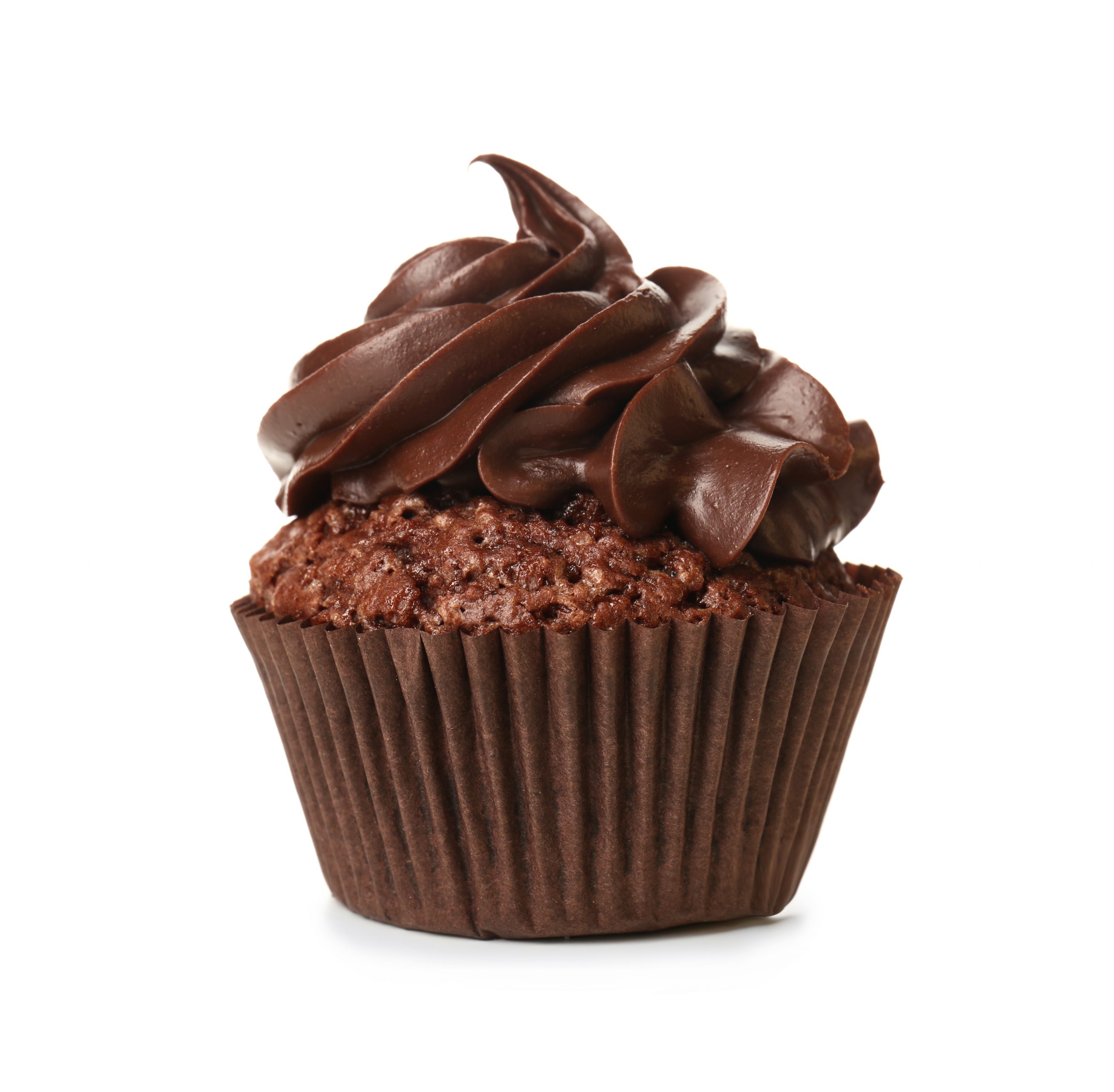 Author: Steph Van De Ven
Cost: 25-35
2

Large

Eggs

1

cup

All Purpose Flour

1/2

tsp

Baking Soda

1/3

cup

Cocoa powder

1

cup

Granulated Sugar

1/4

tsp

Himalayan salt

1/2

tsp

Vanilla Extract

1/2

cup

Cannabis Butter

1/3

cup

KAHLUA

1/3

cup

Water
ICING
1/2

cup

Butter

2 3/4

cup

Powdered Sugar

3

tbsp

Kahlua

3

sprinkls

cocoa, or cocoa nibs for garnish

optional
Preheat your oven to 350 F

Line a 12-cup cupcake or muffin pan with paper liners

Mix your cocoa and water together in a small bowl until smooth and set aside

In a separate bowl, stir flour, baking soda and salt – set aside

In another bowl, beat Cannabis butter and sugar with an electric mixer until fluffy

then in the same bowl as your Cannabis butter, add in vanilla, eggs and Kahlua.

Beat in the cocoa and water mixture and continue until smooth

Lower the speed and beat in all dry ingredients until everything is combined and smooth.

Pour the mixture into each cupcake mold- about halhway full. Cook for about 12-15 minutes for larger cupcakes.
ICING
Beat butter until fluffy with an electric mixer

Slowly beat in powdered sugar

Add a little Kahlua each time until you've reached the icing consistency you like.

Garnish with nibs or nuts, cocoa or anything else you love!
---
Snack Suggestion #4: Cannabis-Infused Garlic Mozzarella Bread
Winter is the best time of year to indulge in all things warm, gooey and delicious – right?
This pull-apart garlic bread recipe is better than any restaurant-style bread you've ever had, so sample first before you serve – they'll devour it!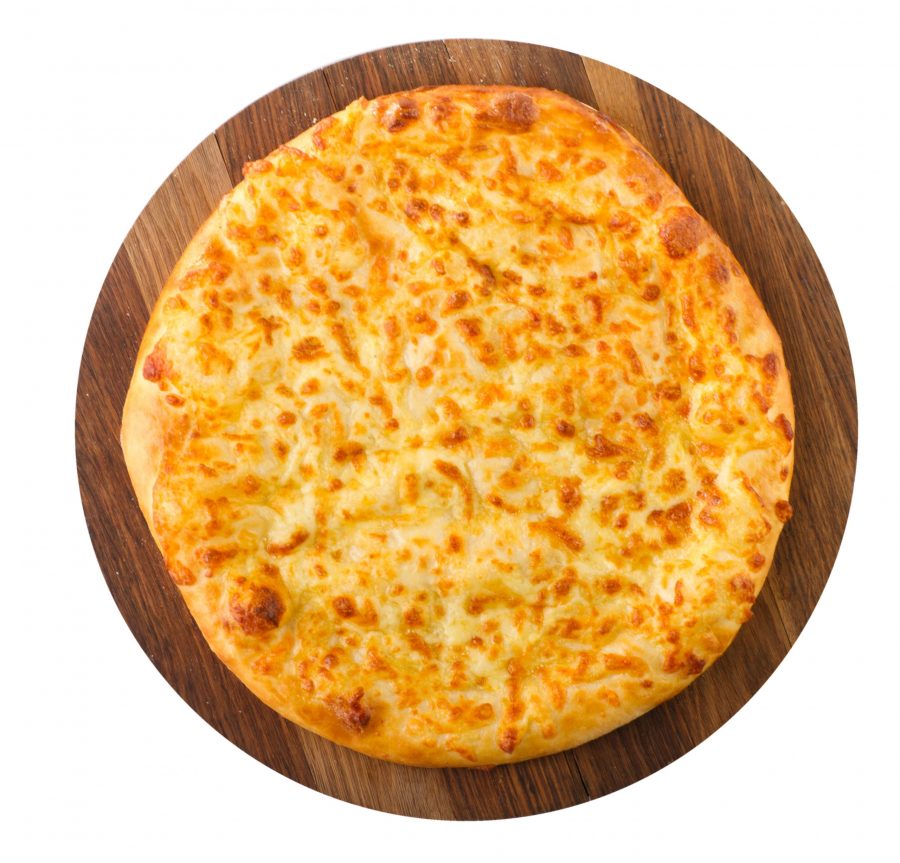 Servings: 4 people
Author: Steph Van De Ven
Cost: 30
Large Mixing Bowl

Spatula or wooden spoon

Sharp knife

Parchment Paper

Cookie Sheet

Oven

Rolling Pin

Cutting Board

Egg Wash Brush
Dough
2

cups

All Purpose Flour

1 1/2

tsp

Dry Fast Acting Yeast

2

tbsp

Sugar

1/2

tsp

Salt

3

tbsp

Cannabutter

1/2

cup

warm milk

1

egg

whisked

1

sprinkle

All Purpose flour

for kneading the dough

250

grams

Mozarealla Cheese

cheddar, gouda, gruyere are also great options in place of mozarella
Garlic Butter Spread
2

tbsp

Cannabutter

1

tsp

minced garlic

1/2

tsp

salt

1

egg

whisked for egg wash

1

dash

freshly cracked pepper
For Your Dough
Place all of your dry ingredients into a bowl

Add half of your 1 egg ( whisked)

Add warm milk ( room temp, not straight from the fridge)

Add the rest of your egg (whisked) into the bowl

stir until everything is mixed up and you can form a firm ball of dough – remove the dough from the bowl and place on floured countertop

Sprinkle flour on top of the dough also.

Begin folding the outside edges of the dough into the middle, and repeat on all sides – really kneading and working the dough – always folding into the centre.

Your dough shouldn't stick to any surface of the countertop now, and it should be a nice smooth ball

Put the dough on a baking tray/cookie shoot and let it rest, covered with a clean tea towel. It should be double the size, and then you know it's ready to move on to the next step. Leave it alone for about an hour and check.

While it's resting you can grab your fresh mozarella and cut into medallions and then into halves again.

Now you can check on the dough. Make sure it's risen to double, and then gently with your fingertips, flatten it out into a bigger circle, and leave it to be about 1 cm thick all the way around.

Place your dough on a parchement paper lined cookie sheet.

Use a sharp knife and 'score' or almost cut through your dough by making straight lines from the top to the bottom. Don't cut all the way through. Lines should be about 1 cm apart

Then, do the same thing in the opposite direction, making nice little squares.

Brush egg wash around the edges of the circular-dough.
Grab Your Garlic Butter Spread Ingredients
In a bowl combine all ingredients together until blended nicely.

With a spoon or spatula, gently cover an even layer on top of your dough, reaching all squares, and make sure you get inside of the little lines you created while scoring.

Take your mozarella halves, and tuck them into all of the crevaces/lines you created while scoring the bread. To make it easiest, start at the bottom and work your way up.
Baking/Oven Instructions
---
Snack Suggestion #5: Cannabis Nerd Ropes
It's a celebration right? So why not surrender to your sweet tooth and make some crunchy-tangy cannabis nerd ropes?!
They're easy to make, super easy to eat and they'll dress up your snack table like nobody's business.
We think you should totally get nerdy!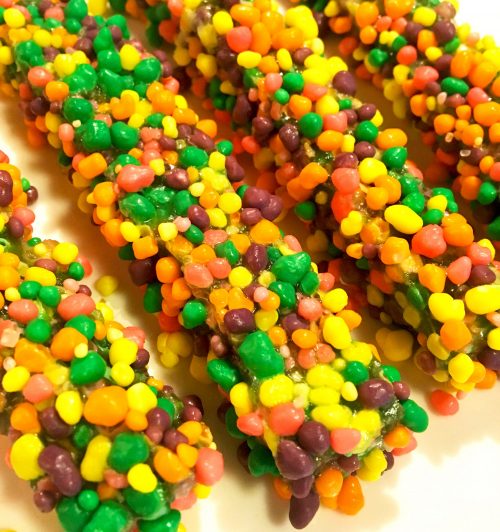 Calories: 200kcal
Author: Robin Briggi
1/4

cup

water

3

oz.

lime Jello

or 4 sheets of Gelatin

1/2

cup

of water

1/4

cup

Corn syrup

1/2

tsp

sunflower lecithin

1/4

cup

canna-coconut oil

Large

sheet

of parchment paper for cutting
Add gelatin to 1/4 cup of water, set aside to bloom/ soften. ( skip if using jello)

Dissolve corn syrup into 1/2 cup water in medium pot.

Add lime jello and turn heat to medium until mixture reaches a boil.

Turn heat down to low, allow to simmer several minutes.

Stir in sunflower lecithin.

Slowly stir in the gelatin mixtures that you set aside (#1) and allow it to dissolve in simmering pot. In case you don't use gelatin, use the jello mix.

Poor into your candy rope molds and let it cool.
Calories: 200kcal | Fat: 20g
---
If you're looking to up-level your canna-cooking game, you may want to start here.
For more recipes like this one, check out our recipe index here.
Share our post and comment below! We'd love to hear from you.
As always, happy canna-cooking!